---
A Love That Knows No Boundaries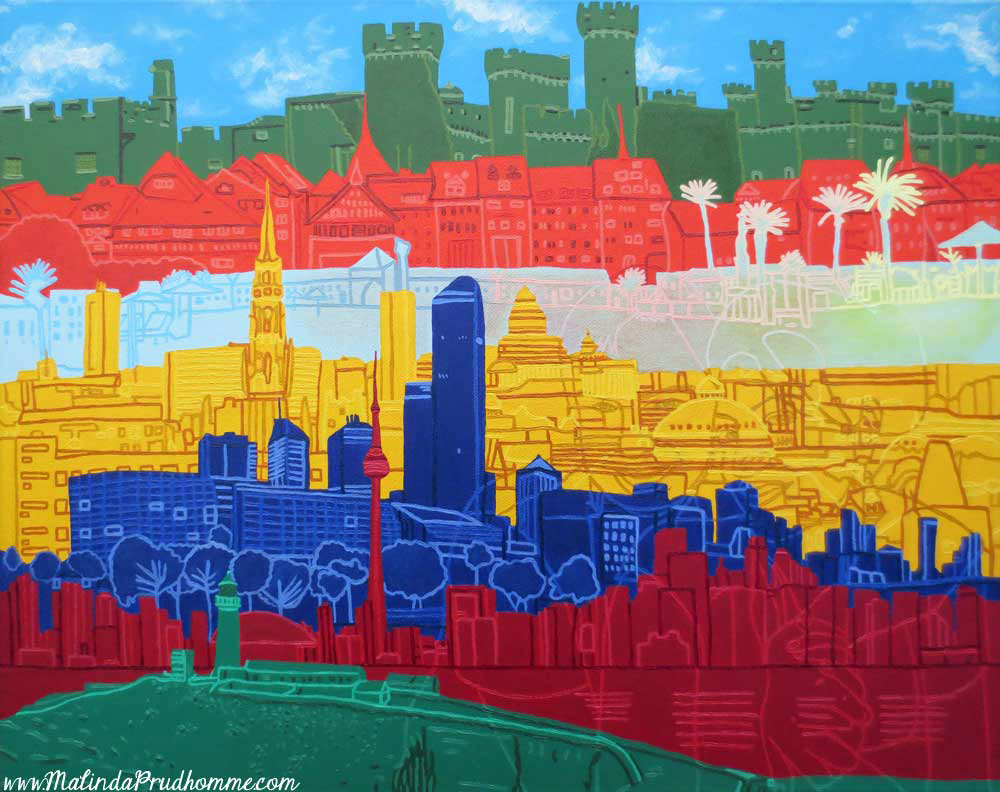 September 2013
Acrylic and Oil Paint on Canvas
12" x 16"

I was contacted last summer by a patron hoping to commission an original artwork for her friend who was getting married. The beautiful couple had had an exciting life together thus far and had lived and traveled in multiple locations around the world. The client wanted to incorporate the couple in a surrealistic or abstracted way so I designed this composition that camouflages a basic portrait of the couple amongst skylines of the most memorable cities of their life together. The first skyline starting from the bottom depicts Holyhead, UK which is near the husbands birthplace. The dark red skyline depicts Toronto which is where the bride was originally from. At this point their journey together begins. The dark blue skyline depicts Melbourne, Australia where the couple met and lived together for many years. The yellow skyline represent Brussels, Belgium where the couple spent more happy years together. The light blue skyline depicts Morocco where the gentleman proposed at sunset, hence the sunset colours. The light red skyline depicts Zug, Switzerland where they would be making their new home. And the light green skyline depicts Bodelwyddan Castle where they would be getting married. Lastly, the final strip features a lightly cloudy bright blue sky alluding to the beginning of their life together as a married couple. So much thought and many many weeks went into creating this beautiful piece. I hope the couple truly loves it!


---
Saint Irene's Atlantis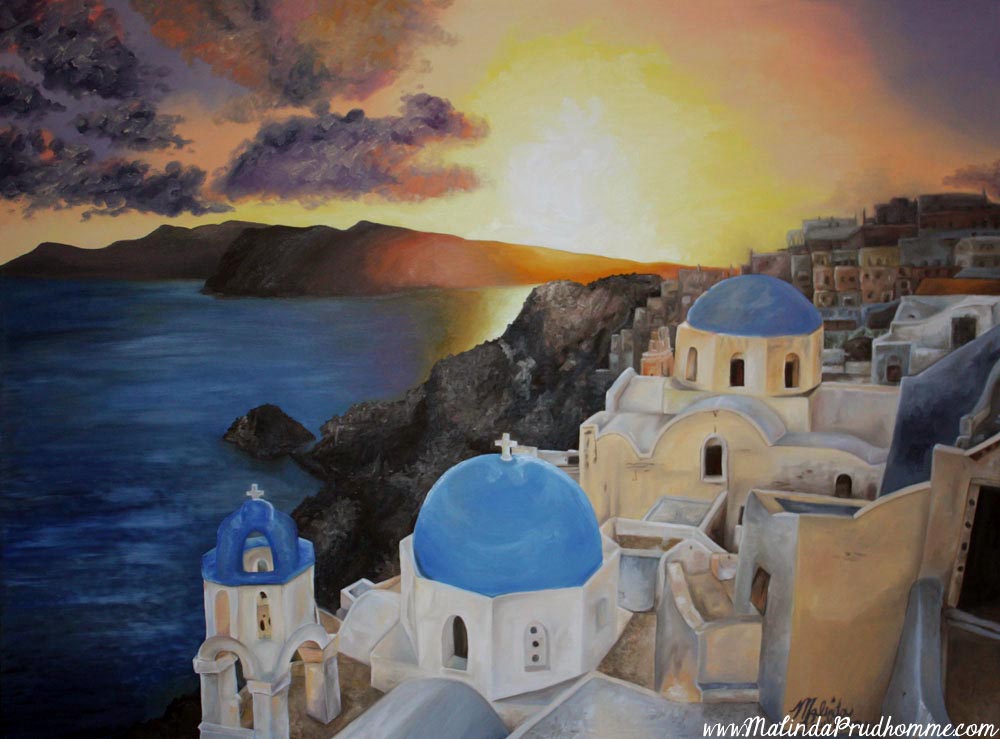 2010
Oil Paint on Canvas
36" x 24"

This piece entitled "Saint Irene's Atlantis" was created as a commissioned item for Shannon Lyle (Roberts). When the commission was first set, Shannon was planning to celebrate her wedding day at a Greek venue and therefore wanted a little piece of Greece in her home to remind her of the special occasion. After much research and discussion, the beautiful, colourful, and tranquil scene of Santorini, Greece was the obvious choice! The piece is done with oils on canvas and was a time consuming and passion driven process. I decided to title the piece "Saint Irene's Atlantis" after doing some research on the location. The name "Santorini" actually translates to Saint Irene. It also turned out that many people believe that the Island of Santorini is the true Atlantis from the legends. I found this to be very interesting because the two concepts contradict each other. A catholic saint versus a mythical underwater world. Thus, I had to represent this in the name of the piece.